Apple today started sharing its "Replay 2022" playlist to Apple Music subscribers. Just like the past few years, this playlist ranks all of the music you've been streaming since the year began, with 100 total tracks in the ranking.

"Replay 2022" will update every week with the newest order of your most-listened-to tracks. By the time 2022 ends, the playlist provides an overall look at your music history for the year.
Once you've listened to enough music to generate the playlist, you'll find it at the bottom of the Listen Now tab in ‌Apple Music‌ on iOS, iPadOS, and macOS. There's also a more detailed version of the data tracking feature on Apple Music for the web, including most streamed artists and albums, and statistics for detailed play counts and hours listened.
Apple has been making its yearly Replay playlists available since 2019, and it's the company's only offering in terms of a yearly statistic wrap-up. Spotify Wrapped has been dominating this area of the music streaming business for a few years now, mainly thanks to its easily shareable infographics that come out in early December.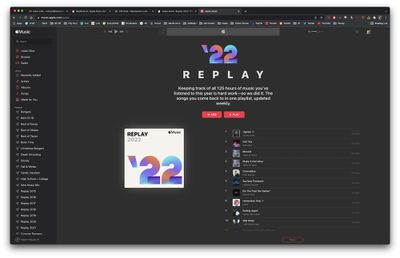 ‌Apple Music‌ Replay has the bonus of being available year-round, but the playlist doesn't tend to change much once you get far enough into the year, and Apple still hasn't provided a year-end recap that its subscribers can post to social media platforms.
Head to the ‌‌Apple Music‌‌ app or Apple Music on the web to add the Replay 2022 playlist to your library. If you haven't listened to enough music yet in 2022, the playlist may not appear in your ‌Apple Music‌ app. Once you do listen to more music, you should see your Replay 2022 playlist appear as usual in the Listen Now tab.
Related Stories
Over 250 New Mood and Activity Apple Music Playlists Now Rolling Out
Following the announcement of the Apple Music Voice Plan earlier this month, Apple is now rolling out over 250 new activity and mood-based Apple Music playlists to users. At its "Unleashed" event earlier this month, which also saw the launch of new AirPods and MacBook Pro models, Apple announced that Apple Music was gaining hundreds of new playlists based around moods and activities to…
'Spotify Wrapped' Recaps Your Listening History for 2021
Spotify today made its annual recap feature "Spotify Wrapped" available to users on the iOS and Android app. This feature tracks your top artists, genres, songs, podcasts, and minutes listened, and generates graphics that are easily shareable on social media. There are a few new additions to Spotify Wrapped 2021, including "2021: The Movie," which pairs your top songs with classic scenes…
Apple Music for PS5 Available Now, First Integrated Experience on a Game Console
Apple Music is available on the PlayStation 5 from today, offering the first fully integrated Apple Music experience on a game console, Sony has announced. The news comes after weeks of the Apple Music app intermittently appearing for PS5 users with no official word on the development from Apple or Sony. Apple Music on the PS5 allows subscribers to play more than 90 million songs, as well as …
Testing Apple's New Apple Music Voice Plan in iOS 15.2
Apple's latest updates, including iOS 15.2, iPadOS 15.2, macOS Monterey, and HomePod 15.2 introduce support for the Apple Music Voice Plan, a cheaper version of Apple Music that's only able to be activated through Siri. Subscribe to the MacRumors YouTube channel for more videos. In our latest YouTube video, we tested the Apple Music Voice Plan to see if it's worth subscribing to for $4.99 per …
Apple Music Voice Plan Coming in iOS 15.2
Apple today provided the release candidate version of iOS 15.2 to developers for testing purposes, and in the release notes, Apple says that the new Apple Music Voice Plan is set to launch alongside the update. Introduced in October, the Voice Plan is a new tier for Apple Music that is priced more affordably than a standard Apple Music plan. It's $4.99 instead of $9.99, and is designed…
Apple Music Now Available on Google Nest Speakers in Five Additional Countries
Apple Music is now available to stream on Google Assistant-enabled devices like the Nest Mini and Nest Audio in five more countries, including Australia, Canada, India, Mexico, and South Korea, according to a recently updated Apple support document. Apple Music first became available on Nest speakers and displays in the United States, UK, France, Germany, and Japan late last year. Just…
Apple Music Gaining New 'Voice Plan' for $4.99/Month
Apple today revealed a new subscription tier for Apple Music, called the "Voice Plan" and priced at $4.99/month. This plan has been designed around the power of Siri and offers subscribers access to the service's catalog of 90 million songs only through Siri, hence the name. This means that users on this tier can only access and play songs, playlists, and albums in Apple Music through their…
Here's a First Look at Apple Music's Voice Plan Launching With iOS 15.2
iOS 15.2 is expected to be released to all users as early as next week, and one of the software update's key new features is the Apple Music Voice Plan, which is designed to let users access Apple Music exclusively through Siri. Ahead of iOS 15.2 being released, we're able to provide a first look at the Voice Plan, courtesy of MacRumors contributor Steve Moser. Users will be able to…
Popular Stories
Clones of Popular 'Wordle' Game Flooding App Store, Including One Charging $30 Per Year [Updated]
If you're a regular internet user you've probably heard of popular web-based daily guessing game Wordle, created by Josh Wardle. The game, which is entirely free to play, was introduced last fall and has been spreading like wildfire. Wordle asks players to guess a five letter word by identifying which letters are in the word and are located in the right location. Players get six guesses per…
iPhone 14 Pro Rumored to Feature 8GB RAM, Matching Galaxy S22
The iPhone 14 Pro will feature 8GB of RAM, the most memory ever offered in an iPhone, according to an unverified but plausible report coming out of Asia. According to a post from the account "yeux1122" on the Korean blog Naver, the iPhone 14 Pro will contain 8GB of RAM. Citing supply chain sources, the post claims that the iPhone 14 Pro's memory components have now been confirmed, and added…
Top Stories: New Macs Incoming, iPhone 14 Pro Rumors, and More
We're more than halfway through February, and rumors are continuing to fly about what might be coming at Apple's rumored March event and beyond. The latest teaser comes from a regulatory database where several new Mac models have popped up. Rumors about the next 27-inch "iMac Pro" and the iPhone 14 Pro continue circulate, and we're also expecting some new Apple displays at some point, so…
Apple Is 'Ungodly Well-Managed,' Billionaire Investor Says
Apple has been lauded as "ungodly well-managed" by billionaire investor Charlie Munger, Yahoo Finance reports. In an exclusive interview, the Berkshire Hathaway vice chairman told Yahoo Finance Editor-in-Chief Andy Serwer:I think Apple is one of the strong companies and will stay a strong company. I think it's ungodly well-managed. Apple is now Berkshire Hathaway's largest stock holding,…
Which New Mac Will Apple Release at Its March Event?
Apple is widely expected to unveil a new Mac next month, but with the high-end Mac mini, the 27-inch iMac, and the Mac Pro all still featuring Intel chips and Apple's M1 machines from 2020 now reaching almost 15 months in age, it is not immediately clear which new model the company is planning to announce next. Bloomberg's Mark Gurman, who often reveals accurate insights into Apple's plans, r…