POCATELLO — Something that started as a passion project for one local couple is now a brick-and-mortar shop inside Station Square on South Main Street in Pocatello.
Casey and Marisa Etheredge opened Ether's Edge in mid-November, and already the business has been a hit among downtown shoppers.
The shop feels like a high-end art gallery and looks like it would be right at home in a big city, with its bright walls and tall ceilings. Instead of the paintings and sculptures you'd find in a more traditional gallery, the mainstays at Ether's Edge are rocks and minerals and crystals in nearly every color you can imagine.
The gallery feel of the shop isn't an accident either. Casey said they want people to feel comfortable coming into the shop without feeling the pressure to buy anything.
"The biggest thing that we feel like as our shop is that we're just here to provide stuff to the people," he said. "We're not trying to necessarily sell things. We're just almost like, 'This is an art gallery from nature. Come check it out. If you like it, heck yeah.'"
Though they didn't know it at the time, Casey and Marisa's journey to open their shop started in 2015 in Sedona, Arizona.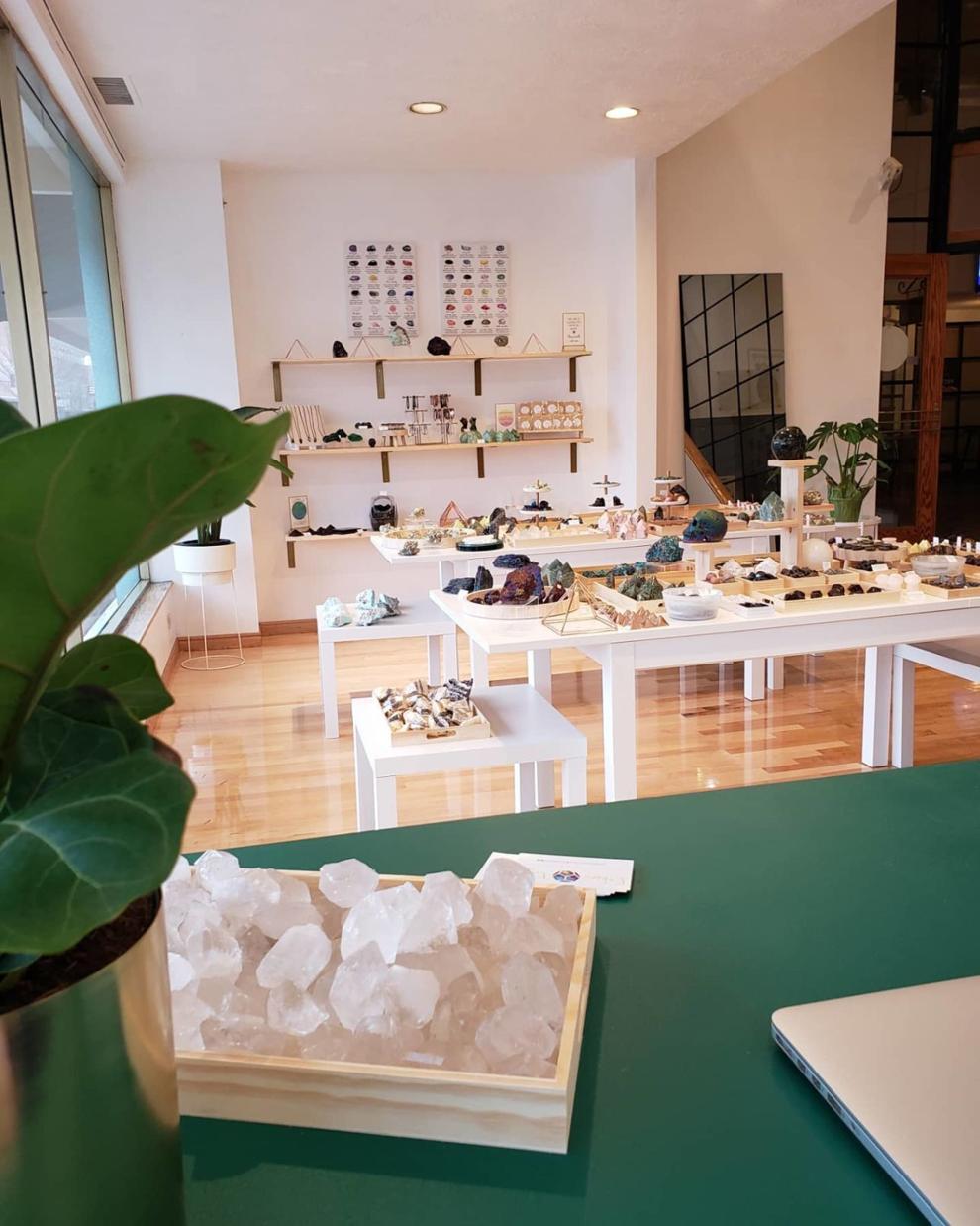 "(That's) when we were first on a spiritual awakening journey, so to speak," Casey said.
While visiting, they got photos taken of their auras, the electromagnetic field that is said to emanate from all things. The process uses a biofeedback sensor to show what a person's aura would look like based off the energy they are giving off.
"We were able to learn so much more about ourselves from that that we decided to look into getting our own system and we did," Casey said.
Once they got their own aura photography setup — called AuraCloud 3D — in 2016, they took it on the road, selling their photo service at pop-ups and farmers markets and other events.
At that time, they began to make a lot of art as well, using gemstones in their work.
"We incorporated a lot of the crystals into a lot of the resin work we did and we kind of noticed offhand how big of a difference the crystals were making in our lives as far as enhanced creativity, helping with anxiety," Casey said. "The list goes on and on about the metaphysical properties of the rocks. We really just started to notice how much of a difference it was making for us, and we were having so much fun making our stuff and sourcing things from all over the world that we decided to try to branch out and share it with others."
They opened an Etsy shop, but Casey said their products sold so quickly that they couldn't keep up.
"We started off as an Etsy shop, started off as traveling shows, doing traveling aura photography and our artwork with the crystals and gemstones and then just had the opportunity to have a brick-and-mortar location," he said. "We've been so well received at all of our events and things that it just made sense for us to jump into this instead of having all of it in our house."
Now, their gemstones, in addition to their aura photography, have a home in a welcoming space downtown.
"It's really nice to have a more intimate setting," Casey said.
Getting a photo taken of your aura is easy. You place your hand on a biofeedback plate for 30 seconds to a minute and let the machine do the rest.
"It measures a few different body functions — temperature, heart rate — but the main thing is actually your electromagnetic frequency of your pulse, which then goes into a computer algorithm, which gives an output of what your aura looks like in the moment," Casey said.
After taking your photo, the computer does its thing and generates an image: your face overlaid with a rainbow of colors.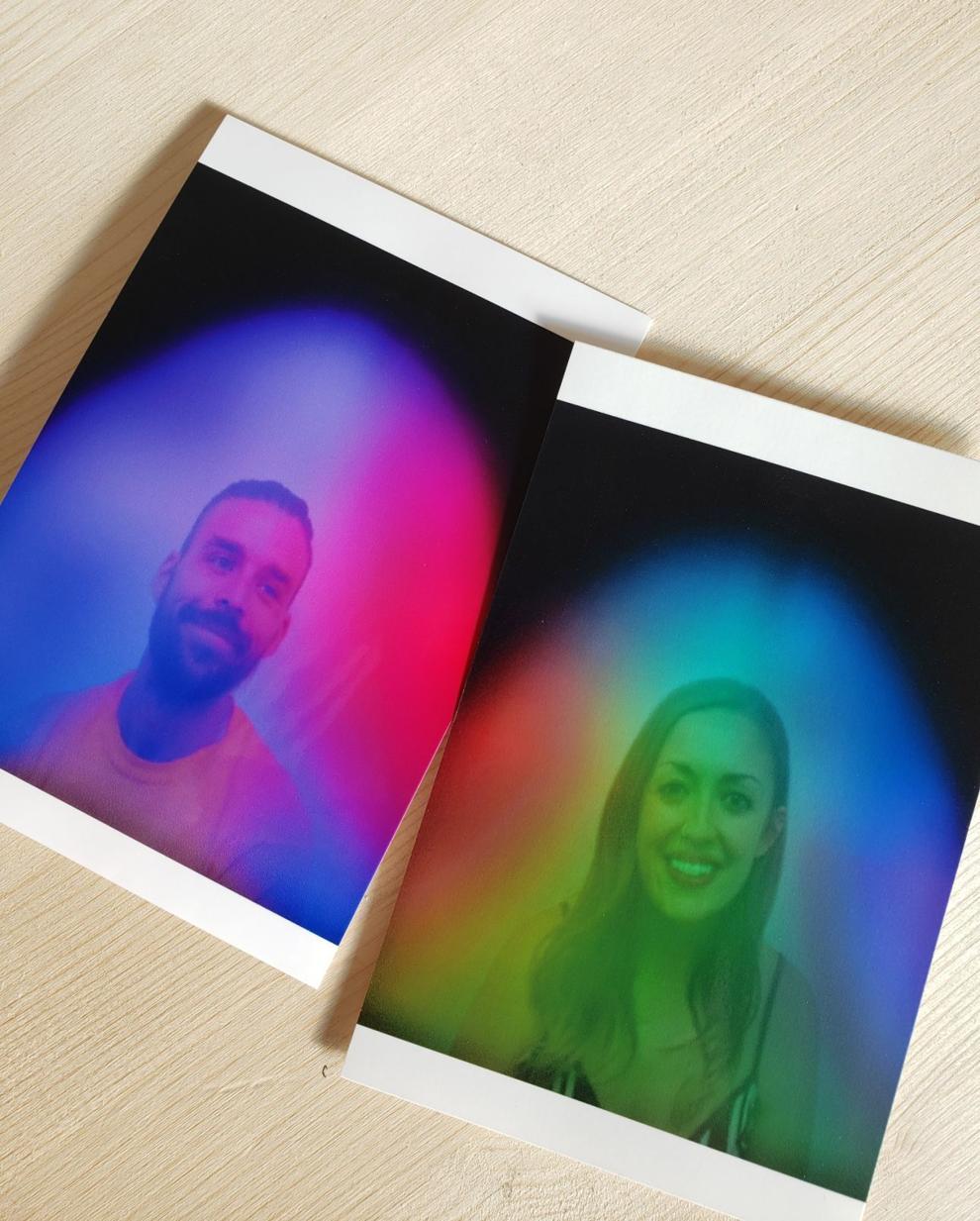 "Then we give you a printout of what the colors mean in each section of your body and what that can mean emotionally, physically, spiritually," Casey said.
There are two options customers can pick from. Both come with a photograph you can take home. Then you can choose between $25 for a one-page report or $40 for a 15-page in-depth report.
Casey says people auras are fluid, changing throughout the day or even moment to moment, though he says that most people's have patterns to them regardless of what else is going on around them.
"We've done 30 days of taking our aura picture every day at certain times a day, and usually we'll fall into the same kind of pattern in the morning, in the afternoon and in the evening," he said.
That being said, there are things that will change someone's aura immediately.
"My wife and I like to do little experiments with it," he said. "We'll be doing a reading with somebody and then if you tell them a joke and they start to laugh, their whole aura will change. If I put one of my kids on my wife's lap, her aura will change. Depending on what you're thinking, feeling, in the moment will definitely determine the colors."
For the Etheredges, a big plus side of being self-employed is being able to spend more time with their family. Their kids — two girls ages 7 and 5 and a 2-and-a-half-year-old boy — will be able to grow up helping their parents out with the family business.
"It's really important for us to make sure that we incorporate our family into everything that we do," Casey said. "So this has been really a way that we get to be together as a family all the time, full time, as much as possible. That would be where the passion came in as far as being self-sufficient and being able to stay together as a family while having our art and things that we love being able to be what provides for us."
Marisa and Casey are Pocatello natives — graduates of Highland High School and high school sweethearts.
"We're super excited to raise (our kids) here and have them be part of this with us," Casey said, adding that it's not unusual for his eldest daughter to help out around the shop.
Casey says it was lucky and "serendipitous" how they ended up leasing the most visible space in Station Square. They'd been looking for a physical location for their business for a while, but he said their other prospects had all fallen through.
One day, he was at another business inside Station Square — Blades Salon and Spa — getting his son's hair cut when the topic of his business came up in conversation with the stylist.
"I just mentioned our business, that we did a lot of traveling shows, and she said that this space was going to be coming available to lease and I should talk to Denis (Clijsters, who owns the building)," Casey said. "I gave him a call and it was like the next day that he showed me the space and we had the lease. It was a really, really cool kind of occasion."
The name of the shop is a play on the couple's last name, but it has a deeper meaning as well.
"Ether is considered one of the five basic elements — earth, wind, water, fire, ether," Casey said. "Ether kind of is the spirit element or the in-between, non-physical element, so to speak. So Ether's Edge is kind of to play on the edge of the physical and the non-physical."
He continued, "Your aura exists in the etheric realm. A lot of the crystals and gemstones, a lot of the energy that they emit would be kind of considered etheric energy since you can't see it but you can feel it."
Casey's favorite gemstone at the moment is malachite with chrysocolla — a blue-green stone.
"They're actually two different minerals usually but we found a supply where the chrysocolla is deposited into the malachite and it's really, really, really amazing," he said. "We only have pieces for our personal collection right now. We're trying to get some more for the store."
The Etheredges get their gemstone supply from all over the world, but mostly from South America and Africa.
You might think that they could get their gemstones from Idaho — famously, the Gem State — but Casey said that's a misnomer.
"Idaho does have a wider variety of gemstones than anywhere else in the world besides Africa, but the quality and size is usually on the lower scale," he said. "… The U.S. has a lot of great stuff but the U.S. doesn't mine for crystals a lot of the time. So you have these big mines that are mining the ores but then the crystals are just kind of throwaway. In South America, there's huge companies that mine specifically for the crystals. They're not looking for the ore."
Since opening, Casey says the community has been receptive to them and the business is off to a good start.
"One of the main reasons we decided to open a store is because we feel like in some way or another, everyone has a connection to rocks — whether it's that their grandpa was a rockhound or they remember going camping and picking up rocks with their dad or cousins or whoever," he said. "It seems like something about them just draws people in and brings back memories for people and makes people happy. People come in the store and they're always in a good mood and it's really nice. So it's been very, very, very well received and nothing but just positive feedback from everyone."
While he and Marisa believe that their rocks and gemstones can have positive effects on someone's spirit, he says he also understands that a lot of people just like to look at them and that's OK, too.
"That's how we started, too," he said. "We were just like, 'Oh my gosh, this is just amazing artwork from nature,' and then we started learning more and more and researching. They're beautiful. They're really fun."
Ether's Edge is located inside Station Square at 200 S. Main St., Suite F, and is open from noon to 7 p.m. Tuesday through Saturday. For more information or to book an aura photography session, visit ethersedge.com. The business can also be found on Facebook and Instagram, @EthersEdge.