Zelenskyy tells G-7 leaders Ukraine will need $5 to $ 7 billion a month to fight war
In a video message played during the G-7 summit Sunday, Ukrainian President Volodymyr Zelenskyy pressed the world leaders to continue their support while plainly stating the cost of war.
Zelenskyy expressed gratitude for the solidarity exhibited around the globe but also urged the continual need for arms, sanctions, and aid. He referenced the Marshall Plan as he expressed the eventual need for post-war reconstruction.
"As long as the war continues, we need $5 billion to $7 billion a month in support. When the war is over, we will have to rebuild everything destroyed by Russia for a sum exceeding $ 600 billion," he said. "This is a lot for our state. This is not possible for Ukraine. But this is possible for you."
The Marshall Plan was a post-World War II aid program, passed under former U.S. President Harry S. Truman, which bolstered Western Europe amid concerns that communism would spread in war-ravaged areas.
Zelenskyy stressed the comparison to World War II in comments regarding Ukrainians who have been reportedly deported by force in Russia, characterizing it as "imitations of the deportations and concentration camps that the Nazis organized in Europe."
He told the leaders that the effects of what is happening in Ukraine has been felt throughout the world already.
"The question is how long this war will last and how much destruction, how many victims Ukraine will suffer," he said. "We must do everything we can to end the war as soon as possible with the victory of freedom. For the longer the war, the greater the benefits of tyranny and the greater the loss of freedom."
G-7 leaders vow to cut Russian oil imports
KYIV, Ukraine — Leaders from the Group of Seven developed democracies pledged Sunday to phasing out or banning the import of Russian oil, as they met with Ukraine's president, Volodymyr Zelenskyy, for online talks to stress their support and to display unity among Western allies on Victory in Europe Day, which marks Nazi Germany's surrender in 1945.
Cutting out Russian oil supplies "will hit hard at the main artery of (President Vladimir) Putin's economy and deny him the revenue he needs to fund his war," the G-7 countries, which include the U.S., Britain, Canada, Germany, France and Italy and Japan, said in a statement.
"We will ensure that we do so in a timely and orderly fashion, and in ways that provide time for the world to secure alternative supplies," they added.
Casting a look back at World War II, the leaders stressed unity in their resolve that Putin must not win.
"We owe it to the memory of all those who fought for freedom in the Second World War, to continue fighting for it today, for the people of Ukraine, Europe and the global community," they said.
U.S. President Joe Biden's call with the G-7 leaders and Zelenskyy lasted about an hour.
U.S. announces new sanctions against Russia
WASHINGTON — The United States has announced new sanctions against Russia for its invasion of Ukraine.
The penalties include cutting off Western advertising from Russia's three biggest television stations, banning U.S. accounting and consulting firms from providing services to any Russian and more restrictions on Russia's industrial sector. Those additional restrictions included cutting off Moscow from wood products, industrial engines, boilers, bulldozers and more.
The U.S. also says the Group of Seven leading industrialized powers have committed to phasing out or banning the import of Russian oil. The U.S. announced its own ban on Russian oil and energy products in March but the U.S. had few Russian energy imports compared to Europe.
The new round of sanctions will hit three of Russia's most popular television stations — Channel One Russia, Russia-1 and NTV — which the U.S. says have been forefront of spreading misinformation about Russia invasion of Ukraine.
The U.S. says it has imposed some 2,600 visa restrictions on Russian and Belarusian officials and issued a new visa restriction policy that applies to Russian military officials and authorities suspected of human rights abuses or corruption.
The U.S. also sanctioned 27 executives from Gazprombank, a bank that facilitates sales by Russia's energy giant Gazprom.
Trudeau makes surprise visit to Ukraine
IRPIN, Ukraine — Canadian Prime Minister Justin Trudeau has made a surprise visit to Ukraine amid Russia's war on the country.
Ukrainian media outlet Suspilne and Irpin Mayor Olexander Markushyn announced Trudeau's visit to Irpin, which had been damaged by Russia's attempt to take Kyiv at the start of the war. Markushyn posted images of Trudeau on social media, saying that the Canadian leader was shocked by the damage he saw at civilian homes.
Trudeau is the latest Western leader to come to Ukraine to offer their support to the country. Later in the day he raised his country's flag at Canadian Embassy in Kyiv.
His office later confirmed the visit, saying in a statement "the prime minister is in Ukraine to meet with President Zelenskyy and reaffirm Canada's unwavering support for the Ukrainian people."
'Darkness returned to Ukraine,' Zelenskyy says in speech marking end of WWII
Ukrainian president Volodymyr Zelenskyy gave an emotional address on Sunday to commemorate the anniversary of the formal surrender of the Nazis, on May 8 1945.
"Decades after World War II, darkness returned to Ukraine," he said in video posted to his Telegram channel. "Again evil has returned. Again. In a different uniform, under different slogans, but for the same purpose."
He added that Ukraine and its allies will win. "We will overcome the winter, which began on February 24, lasts on May 8, but will definitely end, and the Ukrainian sun will melt it," he said.
U2's Bono gives 'freedom' concert in Kyiv metro
KYIV — Irish rock group U2's frontman Bono and his bandmate The Edge performed a 40-minute concert in a metro station in the Ukrainian capital of Kyiv on Sunday and praised Ukrainians fighting for their freedom from Russia.
"Your president leads the world in the cause of freedom right now … The people of Ukraine are not just fighting for your own freedom, you're fighting for all of us who love freedom," Bono told a crowd of up to 100 gathered inside the Khreshchatyk metro station. He was referring to Ukrainian President Volodymyr Zelenskiy.
Bono rallied the crowd between songs during his performance.
"This evening, 8th of May, shots will ring out in the Ukraine sky, but you'll be free at last. They can take your lives, but they can never take your pride," he said.
U.S. unveils additional sanctions targeting Russian media, financing and elites
The U.S., European Union and Group of Seven nations will impose additional sanctions on Russia targeting the country's state-controlled media, elites and services that help finance the war in Ukraine, a senior Biden administration official said Sunday.
The announcement came as Biden met virtually with leaders of the G7 and Ukrainian President Volodymyr Zelenskyy to reinforce their shared commitment to strengthening the war-torn country's position on the battlefield and at the negotiating table.
The U.S. will sanction three of Russia's most-viewed directly or indirectly state-controlled television stations — Joint Stock Company Channel One Russia, Television Station Russia-1, and Joint Stock Company NTV Broadcasting Company, the official said, adding that the stations have been among the largest recipients of foreign revenue, which feeds back into the Russian state.
The administration will also prohibit U.S. individuals from providing accounting, trust and corporate formation, or management consulting services to anyone in the Russian Federation in an effort to limit key services to Moscow companies and elites whose wealth generates revenue for Russia and who are trying to hide that money and evade sanctions, the official said.
Read the full story.
Top American diplomat in Ukraine temporarily returns to the U.S. Embassy in Kyiv
WASHINGTON — A U.S. official says the top American diplomat in Ukraine has temporarily returned to the U.S. Embassy in Kyiv, the capital — an announcement tied to V-E Day.
The official says the return of the acting ambassador, Kristina Kvien, fulfills a pledge that U.S. Secretary of State Antony Blinken made to Ukraine's president, Volodymyr Zelenskyy, during the American's recent visit to Kyiv with U.S. Defense Secretary Lloyd Austin.
The official says the return of select U.S. diplomats to the embassy "is a testament to Ukraine's success, Moscow's failure, and our effective and enduring partnership with the government and people of a sovereign, democratic, and free Ukraine."
The official spoke on condition of anonymity to discuss the developments before an official announcement.
It's not clear when the U.S. embassy will fully reopen. Video showed a convoy of American vehicles drive into the embassy on Sunday afternoon.
'Surrender for us is unacceptable' fighters at besieged Azovstal plant say
Ukrainian fighters in the besieged Azovstal steel plant will "fight until the end" to liberate the port-city of Mariupol from Russian occupation, one of their leaders told a news conference Sunday.
"Surrender for us is unacceptable, because we cannot give such a big gift to the enemy," said llya Samoilenko, a lieutenant in the Azov regiment, a volunteer force with neo-Nazi roots.
Speaking via videolink, he added: "We have spent all of our resources on defense here. We are dead men, most of us know this."
Although the unit had some provisions left, the plant is out of reach of drone support for extra supplies and Russian anti-aircraft networks have made arial support impossible, he said.
He added that Russian forces have begun to attack the plant with ground units, attempting to "squeeze Ukrainians out."
At the same news conference, Svyatoslav Palamar, a deputy commander within the unit said that the factory is being intensely shelled.
Neither Samoilenko nor Palamar could say for sure whether there were any civilians remaining inside the plant.
Boy killed after picking up ammunition from Russian cluster bomb
A 12-year-old boy was killed after he picked ammunition from a Russian cluster shell and it detonated, the head of the Dnipropetrovsk Regional State Administration said Sunday.
Valentyn Reznichenko said in a post on his Telegram channel that the boy, who he did not name, took the ammunition home.  "There, the explosive device detonated," he added. 
NBC News has been unable to verify his claim.   
Jill Biden crosses into Ukraine, meets first lady
UZHHOROD, Ukraine ⁠—  First lady Jill Biden traveled into war-torn Ukraine Sunday, where she met with her Ukrainian counterpart in a Mother's Day show of solidarity for women fleeing Russia's invasion.
After crossing the Slovakian border, Biden traveled to the western city of Uzhhorod where she met Olena Zelenska, Ukraine's first lady at a school. 
"I thought it was important to show the Ukrainian people that this war has to stop, and this war has been brutal, and that the people of the United States stand with the people of Ukraine," Biden said.
Zelenska, who has not been seen in public since the invasion began, thanked Biden for what she called "a courageous act."
Read full story here.
Ukrainian troops retreat from Popasna, Luhansk governor says
Ukrainian troops retreated from the eastern Ukrainian city of Popasna, the governor of Luhansk region said on Sunday, confirming previous reports that it had been taken.
The head of Russia's republic of Chechnya, Ramzan Kadyrov, had said on Sunday his troops had taken control of most of Popasna.
Luhansk Governor Serhiy Gaidai told Ukraine television that Ukrainian troops had retreated to take up more fortified positions, adding: "Everything was destroyed there."
Russian forces launched a new offensive push in April along most of Ukraine's eastern flank, with some of most intense attacks and shelling taking place recently around Popasna in the Luhansk region.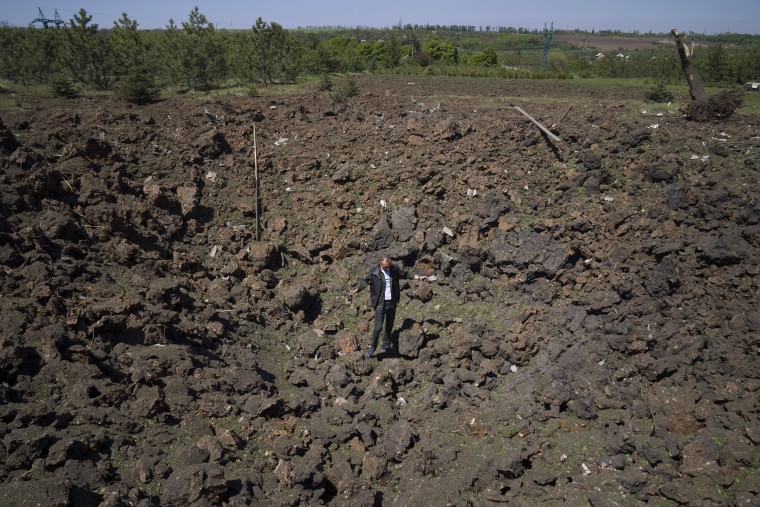 A man stands in a crater after Russian airstrike in Bakhmut, Donetsk region, Ukraine, on Saturday.
German parliament president arrives in Kyiv
The president of the German parliament Baerbel Bas arrived in Kyiv on Sunday to commemorate victims of World War II and to hold political talks, a parliament official said on Twitter.
Enrico Brissa, Bundestag's chief of protocol, posted on Twitter pictures of Baerbel arriving on a train and her meeting with Ukrainian Prime Minister Denys Shmyhal.
'Faltering performance' has drawn Russian commanders onto battlefield, U.K. defense ministry says
Senior Russian commanders have been drawn onto the battlefield because of a "faltering performance on the frontline" and "difficulties in command and control," Britain's defense ministry said in an intelligence briefing Sunday.
Commanders, who "rarely delegate operational authority to their subordinates" are likely to take personal leadership in operations, it said in the regular update on Twitter.
"The forward deployment of commanders has exposed them to significant risk, leading to disproportionately high losses of Russian officers in this conflict. This has resulted in a force that is slow to respond to setbacks and unable to alter its approach on the battlefield," it said.
"However, it is not clear that the presence of these commanders on the battlefield has led to a refined or altered operational concept," it added. "Flawed planning assumptions and failures in sustainment continue to undermine Russian progress."
At least 60 feared dead after Russian airstrike on school
At least 60 people are feared dead after a Russian airstrike hit a school where people were sheltering in the eastern village of Bilohorivka, Luhansk Gov. Serhiy Haidai said Sunday.
Fires raged at the school after the strike on Saturday afternoon, Haidai said in a post on his Telegram channel that was translated by NBC News.
He said that two people had been confirmed dead. Among the 30 people who were evacuated, seven were injured, he added.
"Most likely, all 60 people who remained under the rubble of buildings died," Haidai said.
Russian missiles rain down on Odesa, according to Ukrainian military
Jill Biden hears heartbreak of Ukrainian moms now in Romania
BUCHAREST, Romania — Jill Biden on Saturday heard heartbreaking stories from Ukrainian women and children who fled Russia's war and found safe haven across the border in Romania, and the American first lady praised the Romanian government and relief organizations for the range of humanitarian aid they are providing to refugees.
At a Romanian public school hosting refugee students, Biden saw firsthand the relief efforts to assist some of the 900,000 Ukrainians who have fled to Romania since Russia invaded Ukraine on Feb. 24.
Most of those Ukrainians have moved on to other countries, but many — mainly women and children — have remained as the fighting rages.
"We stand with you," Biden told mothers of some of the students after visiting classrooms where kids ages 5 to 15 attend school.
500 hospitals damaged, dozens of doctors killed and wounded since war began, Ukraine's health minister says
Ukraine's healthcare infrastructure has been badly damaged, in some cases beyond repair, Health Minister Viktor Liashko said.
Speaking on Ukrainian television, Liashko detailed the extent of the destruction and the toll on healthcare professionals in the weeks since Russia invaded on Feb. 24.
"Since the beginning of the war, 10 of my colleagues (doctors) have been killed and more than 40 wounded," Liashko said.
More than 40 hospitals have also been destroyed and cannot be rebuilt and about 500 hospitals have been damaged and cannot provide treatment, he said.
"All this violates the WHO motto: 'Health for all,'" Liashko said.