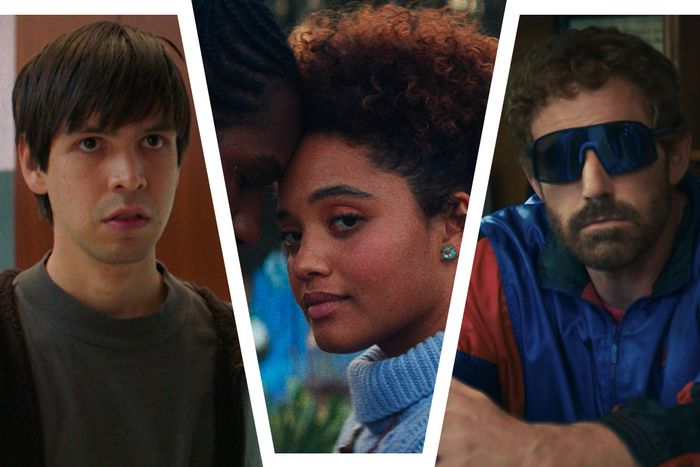 Julio Torres in Problemista (left), Kiersey Clemons in The Young Wife (center), and Ben Affleck in Air (right).
Photo-Illustration: Vulture. Photos: a24; FilmNation Entertainment; Amazon Studios
The South by Southwest film festival had a lot to live up to this year. Everything Everywhere All at Once, which premiered there in 2022 and went on to win seven Oscars, set the bar almost impossibly high, so let's get this out of the way: Nothing on SXSW's 2023 lineup is likely to soar to those heights. (Sorry, Dungeons & Dragons.) But a handful of movies did win over Austin's spunky crowds, particularly a few moving documentaries and larger-than-life comedies. Distribution deals have been slow going, but hopefully someone will snatch up the indies on this list that don't yet have a home. Here are 15 films worth your attention.
Film festivals tend to be front-loaded, but SXSW's closing night was one of its most enthusiastic. The audience cheered throughout Air, especially when Viola Davis was doing the talking. She's the soul of the movie, playing Michael Jordan's savvy mother as the rising basketball legend fielded sponsorship offers from Nike, Adidas, and Converse in 1984. We all know what came of that, but Ben Affleck, who directed and stars as Nike CEO Phil Knight, has turned the brand's pursuit of Jordan into a thrilling underdog saga. It's funny, lively, and tense — not to mention a showcase for Matt Damon, Chris Tucker, Chris Messina, and Funny Pages' Matthew Maher. Air opens in theaters April 5.
In 2000, Ken August Meyer was diagnosed with a rare autoimmune disease that hardened his skin, changed his facial features, and posed threats to his organs. He'd been a promising art student and musician, and suddenly the shape of his life changed. Meyer found comfort in the work of Paul Klee, a gifted abstract artist who developed the same condition not long after he fled Nazi Germany in the 1930s. Angel Applicant, gracefully directed by Meyer himself, is part memoir and part art history. He's a captivating subject, combining gentle humor and poignant melancholy to create this tearjerker of a documentary that won SXSW's jury prize.
Don't tell Granny, but Thomas Kinkade had a dark side. The self-appointed "painter of light," whose schmaltzy nature scenes made him especially popular in Christian households, built a well-marketed empire before sliding into bankruptcy and alcoholism. But that's not the juiciest part of Art for Everybody, an engaging documentary that investigates the Kinkade mythos. When he died in 2012, the prolific artist left behind a trove of work that departs dramatically from the pastoral warmth for which he's known. Thanks to his daughters, some of those paintings are seen here for the first time, telling a very different story than the one Kinkade told about himself. Miranda Yousef's film is too thoughtful to be a mere takedown, proffering an even-handed debate about whether he should be taken more seriously by an art Establishment that has scorned him.
Being Mary Tyler Moore opens with footage of its beloved subject defending a woman's right to forge a life outside the home to a skeptical TV interviewer — a man, of course. Mary Tyler Moore spent her career promoting liberation, and this lovely documentary directed by James Adolphus (Soul of a Nation) encapsulates how her work on The Dick Van Dyke Show, The Mary Tyler Moore Show, and beyond advanced that cause. It premieres on HBO in May.
After making savory documentaries about Kenny G, the Satanic Temple, and Richard Nixon, Penny Lane has turned the camera on herself. The premise sounds straightforward: She's decided to give a kidney to a stranger as an act of altruism. But Confessions of a Good Samaritan contains more than you ever thought you'd want to know about the ethics, legality, and history of organ donation — and it's fascinating. Lane fuses diaristic insight and journalistic inquiry for a look at a modern medical development told through the lens of self-discovery.
Lukas Gage got rimmed by Murray Bartlett in The White Lotus and savored a golden shower in You, but that's child's play compared to Down Low. Here, he's a loose cannon who unleashes chaos when hired to give a repressed blue blood (Zachary Quinto) a happy-ending massage. One thing leads to the next, which is to say the unlikely duo wind up with a dead body on their hands and a snoopy neighbor (Judith Light) to ward off. Gage co-wrote this surprisingly affecting comedy alongside fellow Euphoria alum Phoebe Fisher with Bonding creator Rightor Doyle handling directing duties. It's vivacious, full of witty pop-culture references and a controlled whimsy that signals a bright screenwriting career for Gage and Fisher.
For her first movie behind the camera, Eva Longoria turned her attention to [checks notes, then checks them again to be sure] Flamin' Hot Cheetos. More specifically, Longoria's earnest crowd-pleaser chronicles the unlikely story of Richard Montañez (Jesse Garcia), a low-level Frito-Lay employee who conceptualized the spicy snack and ended up with a plum corporate promotion. The film doesn't acknowledge that many of the claims in Montañez's memoir have been debunked, but if you can look past that narrative prevarication, there's a lot to like. Is Flaimin' Hot a great movie? Meh. Is it a delight despite many, ahem, cheesy flaws? Definitely. Catch it on Hulu in June.
The one-transformative-summer canon is among Hollywood's great traditions, as varied as The Parent Trap, Dirty Dancing, Crooklyn, and Call Me by Your Name. With backing from executive producer Taika Waititi, first-time feature director Billy Luther mines his own adolescence for a coming-of-age charmer about an 11-year-old Navajo boy (Keir Tallman) whose parents ship him off to his grandmother's sheep ranch in hopes he'll forget his obsession with Fleetwood Mac and other devil-inducing amusements. Reluctantly, he bonds with his tenacious cousin (Charley Hogan), learns the word "lesbian" (a woman with hairy arms, of course), and comes to value a way of life he never thought he'd appreciate.
Bottoms is the Rachel Sennott movie that attracted more attention at SXSW, but I Used to Be Funny is the worthier of the two. Sennott plays a budding stand-up comic distressed by the disappearance of the teenager (Olga Petsa) for whom she nannies. Getting involved in the search would be a slippery slope for reasons the film parcels out — and yet how can she not? Ally Pankiw, whose credits include Feel Good and The Great, wrote and directed this tactful nonlinear dramedy that adds a touch of sweetness to Sennott's signature acidity.
Luke Gilford, a noted photographer and music-video director, makes his feature debut with a handsome coming-of-age drama about a solitary construction worker (Charlie Plummer) who finds companionship at a queer rodeo enclave in the New Mexico desert. There, he falls hard for a beautiful admirer named Sky (Eve Lindley), tries drag for the first time, and discovers there really is life outside of the cramped home he shares with his inattentive mother (Robin Lively) and doting young brother (Joey DeLeon). Gilford, whose father was a Colorado rodeo champion, has an eye for lush landscapes and a heart for the emotional complexities of the so-called American Dream. National Anthem is a stunning start to his film career.
Icelandic director Hafsteinn Gunnar Sigurosson's black comedies haven't gotten much attention stateside, but this amusing bit of turbulence deserves to be his breakthrough. The motley English crew at Northern Comfort's center — a jittery property developer (Gentleman Jack's Lydia Leonard), a gruff military veteran (Timothy Spall), and a self-involved social-media influencer (Ella Rumpf) — are enrolled in a fear-of-flying course led by an underqualified instructor (Pennyworth's Simon Manyoda) who speaks in pop-psych platitudes. When the group's maiden voyage leaves them stranded in another country, their panicky impulses turn kinetic. Think Force Majeure by way of stranger danger.
Unpredictability is Julio Torres's whole thing, but if there's one thing Nostradamus knew for sure, it's that Torres would one day make a movie with Tilda Swinton. That brings us to Problemista, an A24-backed joyride through the mind of one of today's more imaginative comedians. He plays an aspiring toy developer from El Salvador who takes a job working for an eccentric art critic in hopes that she will sponsor his work visa so he can stay in New York. Like Torres himself, the film is whimsical and heartfelt, disguising its down-to-earth philosophy in flamboyant flights of fancy.
I didn't know Leah McKendrick's name before seeing Scrambled, and now I expect to find it everywhere. (She's also co-writing the I Know What You Did Last Summer sequel.) McKendrick wrote, directed, and stars in this propulsive comedy about a single 30-something with an Etsy jewelry store that isn't exactly taking off. Everyone around her, including her best friend (a hilarious Ego Nwodim) who once swore off marriage, is coupling up or having a kid or watching their careers soar or whatever else people are "supposed" to be doing at such an age. That leaves McKendrick's Nellie feeling pressured to freeze her eggs, a decision that ignites a series of misadventures as she comes to understand, in millennial fashion, that "life isn't a Taylor Swift song."
The ambiguous conclusion of Self Reliance will be polarizing, but you have to hand it to Jake Johnson for taking a big swing with his directorial bow. Johnson plays a loner recruited (by Andy Samberg, no less) to participate in a dark-web survival game that could win him $1 million, if he can stay alive. It's a high-concept comedy treated like a relatively lo-fi existential indie, which makes sense for one of Joe Swanberg's core collaborators.
An anti-rom-com that SXSW billed as a "sunny-day panic attack," The Young Wife follows a skeptical bride (Kiersey Clemons) over the course of her wedding day. At a well-appointed country house in the near future, she deals with a parade of guests who provide unsolicited counsel while awaiting the arrival of her beau (Leon Bridges). Director Tayarisha Poe's follow-up to Selah and the Spades is woozy and stylish with shades of magical realism that turn existential. The stacked supporting cast includes Sheryl Lee Ralph, Judith Light, Michaela Watkins, Kelly Marie Tran, and Aya Cash.